Reg. 9 (FL, GA, NC & SC)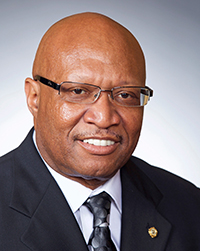 Kenneth R. Gibbs Jr., National Business Agent
5201 Ravenswood Rd., Suite 119/120
Fort Lauderdale, FL 33312-6007
954-964-2116
Serving letter carriers in Florida, Georgia, North Carolina and South Carolina
Second-generation letter carrier Kenneth Gibbs was elected national business agent (NBA) for Atlanta Region 9 by acclamation in 2014 during the 69th Biennial NALC Convention in Philadelphia.
Gibbs, a member of Brunswick, GA Branch 313, said he grew up in an NALC household—his father, Kenneth Gibbs Sr., had served as Branch 313 secretary-treasurer when the younger Gibbs was branch president, and Kenneth Jr. served as a T-6 on his father's letter route.
The former Glynn County, GA, substitute school teacher was hired as a letter carrier "in 1980 and immediately joined the NALC," he said. "I already knew how important the union is to working men and women."
Gibbs said he started his union activism career by volunteering. "I volunteered first to organize the branch retiree dinner," he said. "From that, my branch president would appoint me or ask me to run for vacancies as they became open." As a result, Gibbs has served Branch 313 as Muscular Dystrophy Association (MDA) coordinator, sergeant-at-arms, joint route inspection co-leader, health benefits representative, trustee and vice president.
"After a while," he said, "the position of president was one of the few that I had not held." So in 1990, when Branch 313 President Edward Lowe retired, Gibbs ran for the office and won. He served as president until 2003, when NALC President William H. Young appointed him as a regional administrative assistant for Region 9, which serves letter carriers in Florida, Georgia, North Carolina and South Carolina.
The same method of progression of volunteering, being appointed to and being asked to run for office worked at the state and regional levels, too: Gibbs has served as recording secretary for the local joint Employee Involvement (EI) steering committee, as a regional arbitration advocate and local business agent, as district representative on the Employee Assistance Program (EAP) advisory committee and as a back-up Step B team member.
He has also held several offices with the Georgia State Association of Letter Carriers (GSALC), including president from 2002 until his appointment as a Region 9 RAA.
"I was fortunate to work with GSALC President Jerry McLaughlin and Atlanta Branch 73 President Robert Henderson, as well as retired Region 9 NBA Matthew Rose," he said. "They, along with my past president, the late Edward Lowe, gave me opportunities to work for the members, and I will provide the same opportunities to those who are willing to get the job done for the members now."
Gibbs' experience is not limited to carrying the mail and the job's attendant challenges—he has also refereed at high school football and basketball games, and until 2003 he ran a restaurant in Brunswick, GA.
As NBA, "I hope to provide the members of Region 9 with the best representation possible," he said. "I will keep them informed and I will work to create better working conditions on the workroom floor."
Gibbs has an Associate of Science degree from Brunswick Junior College. He and his  wife, Linda, have three daughters—Angel, Angelina and Angela and five grandchildren.
REGIONAL ADMINISTRATIVE ASSISTANTS
Jeff Siciunas, Jacksonville, NC Branch 3984
Lynne Pendleton, Central Florida Branch 1091
Don Lyerly, West Coast Florida Branch 1477