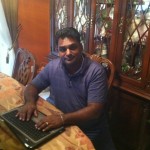 Anthony Ali
2943 Moorcroft Ct
Orlando, Fl. 32817
407-298-1091
alis1quest@earthlink.net
Brothers and sisters I am privileged and honored to be given this opportunity to serve the membership as the Florida State Association of Letter Carriers (FSALC) Vice President. I look forward to working with the Branch Presidents, District Chair's and our CDL's to insure the membership is well represented in the State of Florida. Before I go any further I would like to give you a brief history about myself.
I have been an NALC and Branch 1091 member for sixteen years. During that time I have served as a Shop Steward, Branch 1091 Trustee, Step B Representative and as a Local Business Agent representing Letter Carriers as an Arbitration Advocate for Region 9. I am a graduate of NALC Leadership Academy, NALC Arbitration Advocacy Course as well as the Dispute Resolution Team Training Course. Additionally, during my 16 years of service I have been actively involved in our fight on the legislative front as well as being a Letter Carrier Political Fund Contributor and an E-activist.
Part of my duties of the District 3 Chairperson, I wrote several article concerning the many gains previous union advocates have earned through their hard work. Unfortunately, certain letter carrier benefits and protections such as Worker Compensation program, Federal Employees Health Benefit program, and our retirement systems, were federal law and thus subject to congressional attack. Union leaders realize the collective bargaining rights postal employees enjoy were themselves a product of congressional action-and what Congress could give certainly could be taken away. Today, we are faced with elections at the federal, state and local levels that can affect working families now and far into the future. That is why today I am asking every letter carrier to get involved. How do you say?
First, we can all register to vote for this year's upcoming General Election. The last day to register to vote for the General Election is October 11, 2016. You can register to vote on line or in person at you Supervisors of Election Office. This year you can now register to vote by mail!
Second, over the past several months, NALC has been educating members about the only postal reform bills currently before the House and Senate: the Postal Service Reform Act of 2016 (H.R. 5714) and the Improving Postal Operations, Service and Transparency (iPost) Act of 2015) (S. 2051).
H.R. 5714 was crafted by leaders on the House Oversight and Government Affairs Committee, including Reps. Jason Chaffetz (R-UT), Elijah Cummings (D-MD), Mark Meadows (R-NC), Gerald Connolly (D-VA) and Stephen Lynch (D-MA). It was marked up in July.
S. 2051 is a product of Sen. Tom Carper (D-DE) and has yet to be approved by the Senate Homeland Security and Governmental Affairs Committee.
While there are similarities between the two, there are a significant number of differences.
NALC has created a side-by-side comparison, highlighting language that reflects our priority areas within each piece of legislation—including service-related provisions, the retiree health pre-funding burden and workers' compensation, among others.
You can get more information on legislation that can affect working families by visiting www.nalc.org ; www.fsalc.com or the NALC App now in the iPhone App Store and the Google Play Store for Android.
Finally, in recent weeks, NALC has released several NALC members to work with the Florida AFL-CIO for this year's election cycle. I would like to report to you, the release staff has been working diligently organizing phone banking and canvasing events as well as voter registration drives throughout the state. In order to "put boots on the ground" the FSALC and NALC have to allocate resources for member that is released. Unfortunately, federal laws prohibit NALC from union dues to pay for legislative activities. It would be impossible to put boots on the ground without having sufficient resources in our PAC. Therefore, it is incumbent upon us all to contribute to our Political Action Committee (PAC) the Letter Carrier Political Fund. You can get more information on how to contribute to the Letter Carrier Political Fund at www.nalc.org ; www.fsalc.com or the NALC APP.
Finally, I ask that you reach out to your branches and find out when your next phone banking or canvasing event is taking place. This year we are going to need all hands on deck if we are going to be heard concerning working families. I look forward to seeing you all at the State Training on October 14-16, 2016 in Orlando, Florida.
Fraternally,
Anthony Ali