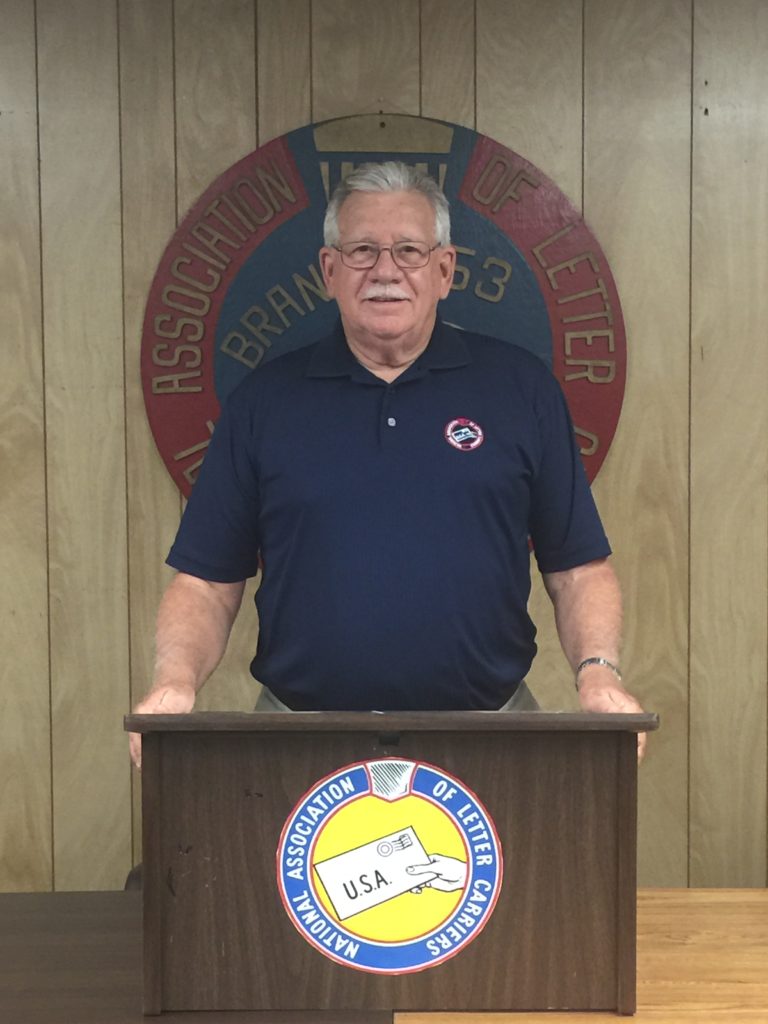 Bob Henning
3072 Bridgeview Dr.
Jacksonville, Fl 32216-1456
904-400-2580                                                                 e-mail: boblba9@yahoo.com

FSALC District 4 Report Bob Henning, Chairman
May 31, 2019
The 2019 Stamp Out Hunger Food Drive is now complete with the following District 4 offices reporting a banner year of donations:
Branch -Coordinator- Pounds collected
Edgewater Br. 5951- Tina Sullivan- 14,560
Gainesville Br. 1025 -Lynn Kilgore- 76,000
N.E. Florida Br. 53- Lonnie Guillory / Bob Henning -855,170
Madison Br. 2796- 2,640
New Smyrna Beach Br. 3129- Jim Zern- 18,726
Ocala Br. 1103 -Tim Legge- 125,900
Perry Br. 2889- 3,200
St. Augustine Br. 689- Brandy Somerset-Jordan- 122,344
Williston Br. 3018 -Steve Converse- 8,600
With Branch 53's area as large as it is I would also recognize Kathy Todd in Daytona, Marilyn McIntyre in Port Orange and Mike Saveraino in Ormond Beach for coordinating in their facilities. Thank you to former NBA Matty Rose for his help at Port Orange and Daytona.
Thanks to everyone who participated in this years drive with a special thanks to the Rural Carriers and Highway contract carriers who without their support this yearly food drive would not be successful. Almost every office surpassed last years collections and reports from food pantries are amazed at the results. I wish to also thank those members, retirees and others who volunteered their own time to assist and make this happen.
Thank you all for making this the best year yet.
_________________________________________________________
The NALC at the national level has appointed a few new Legislative Political Organizers to assist Letter Carrier Political Liaisons and to spread the word about current legislation affecting our members. They also encourage members to help our cause by contributing to the Letter Carriers Political Fund. In region 9, Eileen Ford from Georgia has been assigned to region 9.
During the second week of March, Eileen visited 3 Branches in District 4, Ocala, Gainesville and Jacksonville. She signed up 18 members to join the political fund. In Branch 53, after hearing what she had to tell the members about the prospect of a future with the USPS and how the NALC has to deal with congress, every member not yet in the program signed up.
Eileen relayed the proposals from the current administration and the adverse effects on our members if enacted. She also discussed the proposals of the USPS that were made to the APWU during contract negotiations. Any of those would cause a disruption to all USPS employees.
How would you feel if you were to get discipline from the USPS but you had to wait until after work to see a steward off the clock. What about losing the no layoff clause if you have less than 15 years of service? How would you like a 1 time lump sum payment for wages to include ( or not ) COLA? For the life of the contract.What about if excessing needs to be done, and currently it has to be within a 50 mile radius of your office, what if that mile requirement is gone. That's some of what the clerks were offered.
We have to support our national officers not only for them to bargain for us with USPS but so they can be effective when dealing with congress. Five dollars a pay day doesn't hurt especially when it comes out of your check. Please if you aren't already, please donate to the Letter Carriers Political Fund.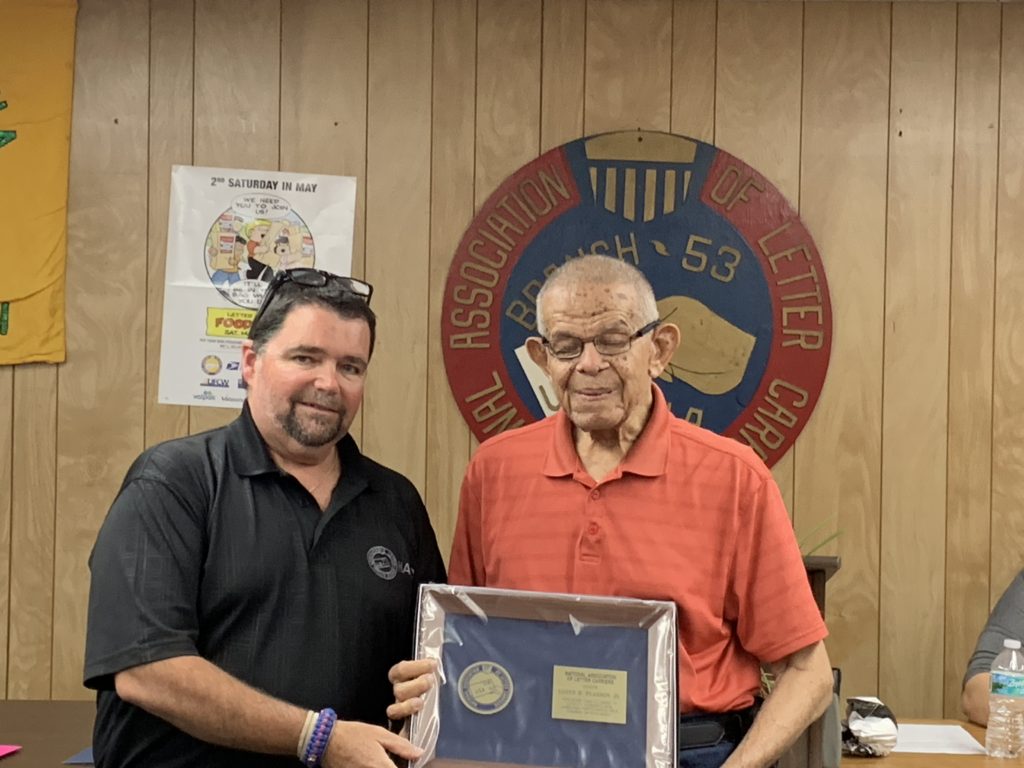 Branch 53 president Steve Parris presenting retiree Lloyd Pearson with his 70 year membership pin and plaque.
____________________________________________________________
At the last Northeast Florida Branch 53 meeting, NALC President Fred Rolando installed the branch officers. He gave the members present a review of issues coming up that carriers should be concerned with. First and foremost are negotiations for a new national agreement that begins on June 20th. Headquarters sent a survey requesting active carriers to express what they want in the new contract. Hopefully you participated.
Fred went on to talk about the USPS budget and how the Pre-funding requirement for future retiree's health care is the only reason the USPS is in the red. So far the fund has $46 billion dollars in it. He talked about how the proposed budget affects us with an increase to retirement contributions, Increase in health benefits premiums, reduce civil service retires COLA by ½ percent, remove the FERS supplement and eliminate COLA's for active employees. The White House wants to privatize USPS
Most importantly, Fred talked about the importance of the Letter carriers Political Fund and how that fund helps keep the USPS in business so we may continue to have the good paying jobs and benefits. Currently only 10 percent of the membership participates in this fund. He stated that if everyone gave just a little bit we would be able to get more of those in congress to support our issues. Please go on line to nalc.org to sign up for LCPF. It is critical to your future.
Fred also cautioned those members in the Thrift Savings plan to be aware of predators wanting you to invest in other funds. They appear at offices and will contact you through the mail to get you to move your funds. Several have already lost money over this.
Please consider signing up for the Letter Carriers Political Fund your future depends on it.
_____________________________________________________________________________
Branch 53 retiree Maceo George and I were released by NALC Headquarters to work on the 2018 election. While phone banking 4 days prior to the election we got a surprise visit from Minnesota US Senator Amy Klobuchar. ( See Photo) She brought us up to date on things in the senate and encouraged us to keep working hard to get representation that will work for working families. She also asked for our input and I suggested that every state use the vote by mail system such as Oregon has. After 20 years it is working very well. It is hard to hack the mail.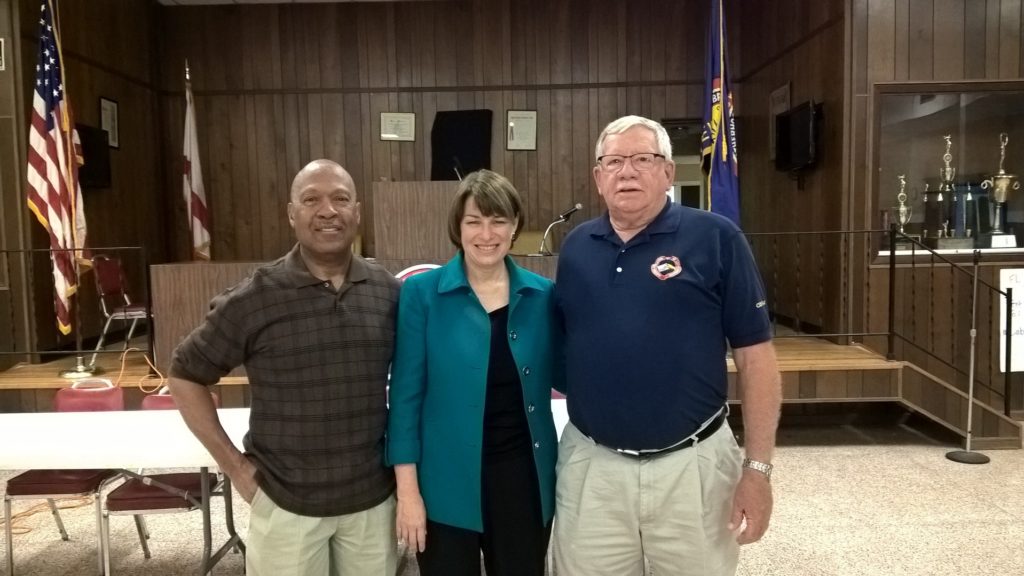 Unfortunately as of now we didn't do so well in the state of Florida. As of this article apparently there will be a recount for Senator and Governor. Thankfully we now have a house under Democrat control and time will tell what's to come. I want to thank all of you who actually voted, this was the biggest voter turnout ever for a mid term election.
Keep alert for news from NALC HQ about legislation. It is now more critical than ever for us to be involved.
______________________________________________________________
All 4 Postal unions will be having an informational Picket on Monday October 8th, from 11 AM to 1 PM at the Pottsburg station 10700 Beach Blvd. 32216 This picket is to get congress to sign on to resolutions that would keep the postal service a private institution and congress would do everything to prevent privatization. Stewards please ask your fellow carriers to attend even though it is a holiday. APWU, NRLCA , NPMHU and the AFL-CIO have agreed to participate. I anticipate media coverage of this event. Call me with any questions.904-400-2580. Thank you
BOB HENNING
FSALC District 4 Report / Bob Henning                                   September 13, 2018
       Members are reminded that the ballots for NALC National Officers will be mailed this week. Please take the time to fill out the ballot and place it in the return envelope following the instructions that come with the ballot. This is your dues money that pays for elections so let us all use it. These are the leaders for the future of the NALC and your jobs and benefits depend on those elected. If you do not receive a ballot by Friday September 21st, contact your Branch President so they may contact Headquarters. Ballots are due back by 9AM Thursday October 4th.
      U.S. elections are November 6th and we are working hard to get those representatives elected that support the issues of working families. Please remember that those candidates that support the current administration are also support the Presidents proposals to bust unions and take away your rights to pensions, healthcare and job security to name a few. Once again please take the time to vote. You can request a vote by mail ballot in the state of Florida and it is good for 2 years before you have to renew.
     If you are not registered to vote you must do it by October 9th. During the last presidential election it was amazing to see how many letter carriers did not take the time to vote. Early voting in Duval County starts October 22 thru November 4. Please check with your voter registration for other county dates. 
PLEASE TAKE THE TIME TO VOTE!!!!!
______________________________________________________________
Bob Henning                                                                                        April 30, 2018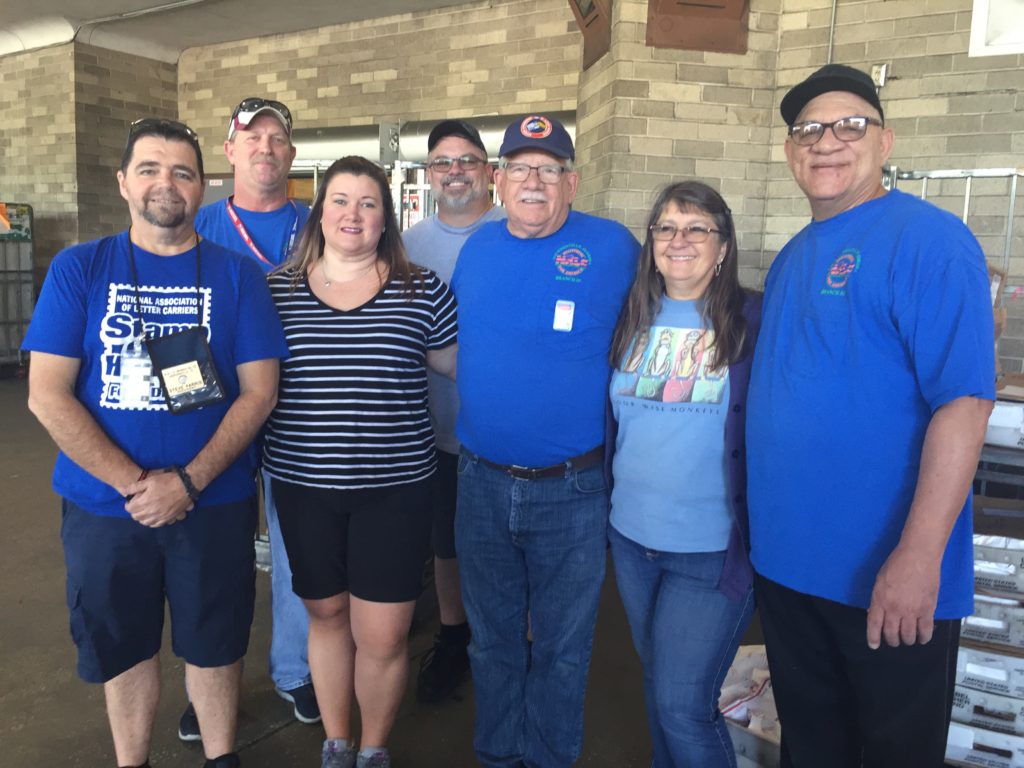 We are preparing for the annual Stamp out Hunger food drive on Saturday May 12, 2018. Branch 53 has assisted in sending out bags donated by Farm Share and Duke Power to offices all over the state. On Sunday April 29th several members and a spouse shipped food drive cards and bags to offices from Port Orange to Ocala and out to Tallahassee. L-R, Branch President Steve Parris,  Shop Steward Bob Broecker, Sarah Thigpen, EVP Jim Thigpen, Bob Henning and retirees Joyce Covert and Lonnie Guillory all worked to make this possible. Thank you for donating your time for this worthy cause.
The FSALC is also preparing for state training at the World Golf Village in St Augustine, June 1 through 3. The agenda is on the FSALC web page. St Augustine Branch President Bill Wilcox is busy making preparations to ensure a successful event. On Sunday June 3rd there will be a session covering retirement. If you are planning to retire this year you don't want to miss this class. See your Branch President for details.
I will be visiting Branch meetings in the coming months to share current  information and will let the Branch Presidents know in advance when I will be there, Let's all be safe especially on food drive day and we hope for this to be the most successful food drive yet.
___________________________________________________________
FSALC District 4 – January 3. 2018
Hopefully all members and their families had a wonderful holidays and Happy New Year. Already President Trump is starting in on the USPS calling for changes. As employees of the USPS and union members we must be aware of events that will eventually affect your jobs and livelihood. It is now more important than ever to participate in the Letter Carriers Political Fund so that we may support congressional representatives that are in agreement with our issues in an effort to keep the USPS a viable organization. Remember the Letter Carriers Political Fund does not limit contributions to any specific party but to those who support our issues.
To contribute you can go to the NALC.ORG website and look under legislation. $5.00 per pay period is not a lot but if everyone contributes it means so much to ensure we keep our jobs and benefits. You can also sign up for the E-activist messaging where you will be kept up to date on immediate legislation regarding the usps and your benefits. This also applies to retirees, already there are talks about reducing federal retirees benefits. As you retirees already know based on your pension those kinds of changes are not an option for us.
The spring FSALC District 4 meeting will be held in Ocala as follows:
Date: Sunday March 4, 2017
Time: 10AM to 2PM
Place: International Assoc. of Fire Fighters Hall
1013 Silver Springs Blvd.
Ocala, Fl. 34470
We will discuss legislation, A representative from the NBA's office will update on contract issues, Food Drive discussion, and more. Hope to see you there!
Bob Henning
District 4
______________________________________________________________
Thank you to the District 4 delegates to the Florida State Association of Letter Carriers for voting in the district election. I would like to thank Frank Marinacci for his many years of service to the State association.
I am currently attempting to schedule a District meeting in October. As District Chairman I will be mailing monthly or bi-monthly reports to the Branch Presidents within District 4 to be posted on the union boards in the offices. I will keep the members updated on current legislation and advise when we need to contact our representatives in the house and senate. I have provided my phone number and e-mail for contact purposes. If you call my cell phone, please leave a message so I will call you back.
I look forward to representing you for the next two years.
Bob Henning