FSALC Mission Statement To accomplish the goals of the National NALC, as set  forth in the National Constitution and to enforce the State Bylaws. Make the internal workings of the FSALC's Transparent and Accountable to the membership. Through Education and Training, make the State first in the nation Legislatively, and in all other aspects of UNIONISM. Together the membership will prevail…The Struggle Continues.
______________________________________________________________
  An important note on voting by mail in Florida…. If you vote by mail, and we hope you    do, please remember that unless otherwise specified, a request to receive a vote-by-mail  ballot covers all elections through the end of the calendar year for the second ensuing regularly scheduled general election. A vote-by-mail ballot that is returned undeliverable cancels a request for future elections and must be renewed.
_________________________________________________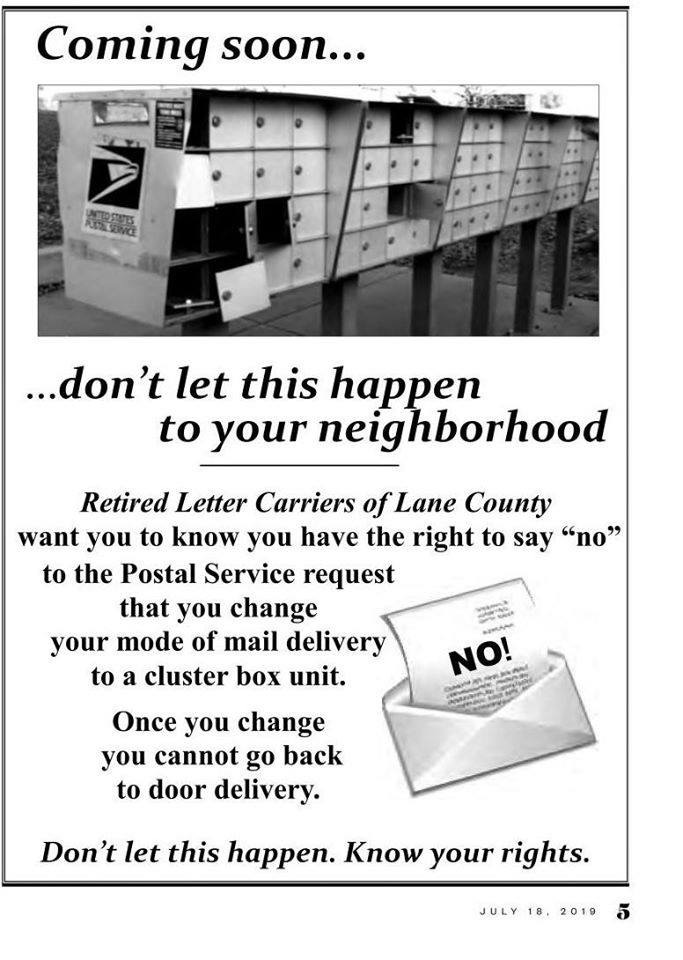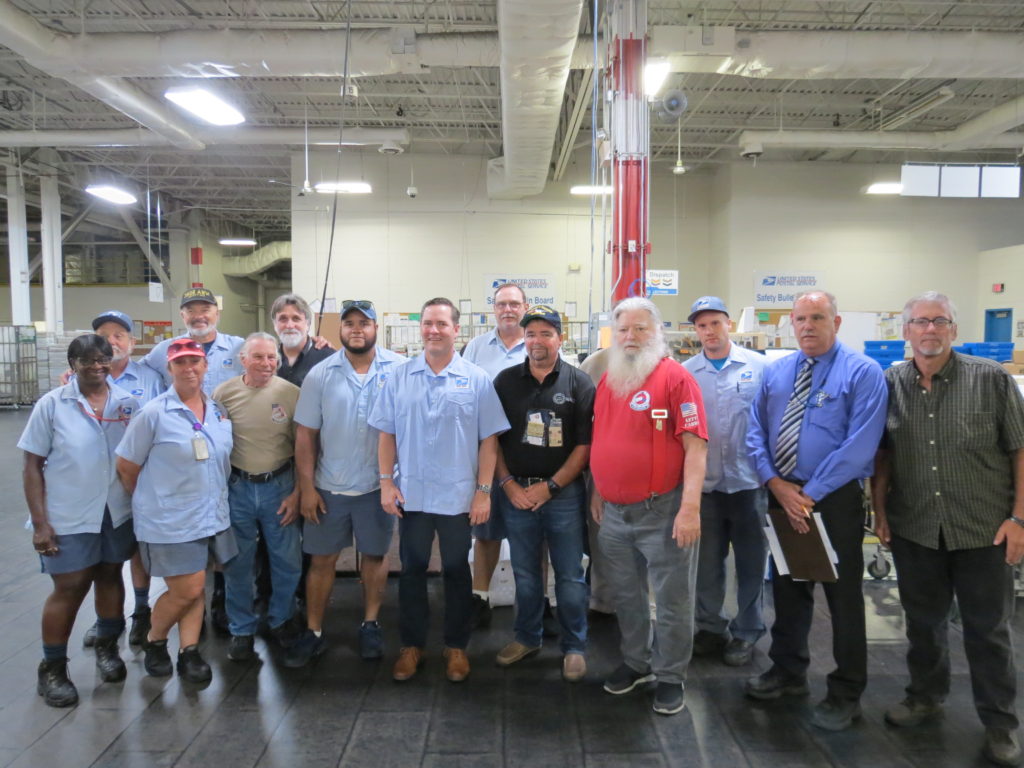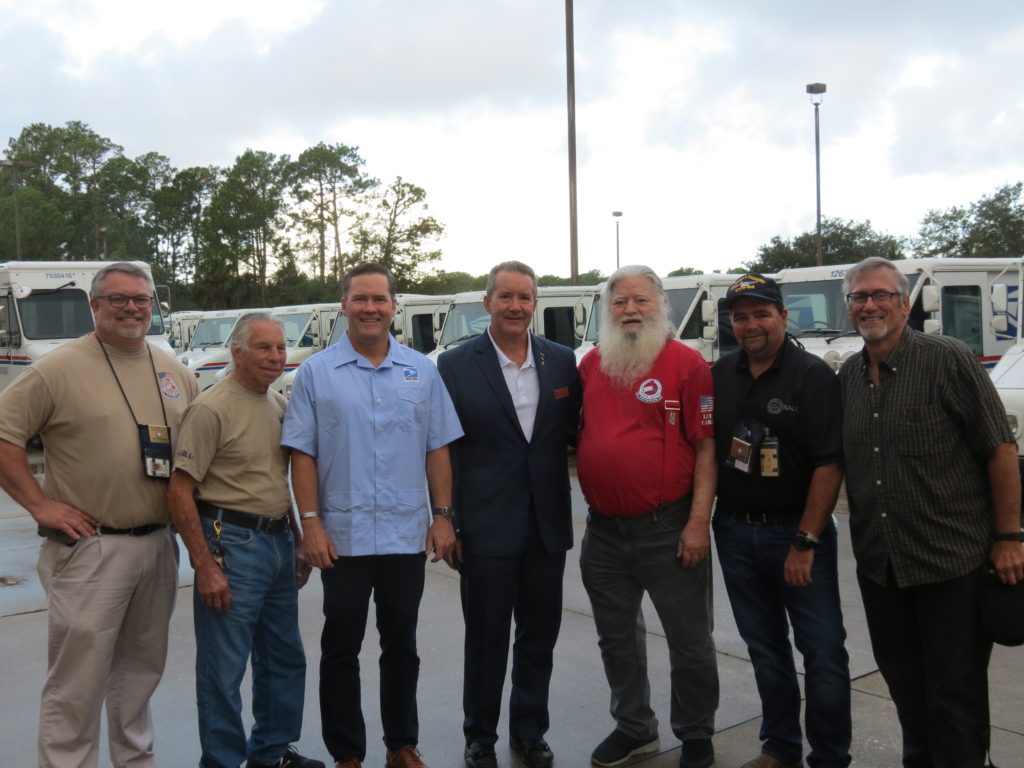 Dear sisters and brothers,
Today, 10/8/2019, we have had the honor and privilege to have Congressman Michael Waltz, Florida sixth congressional district visit the Daytona Beach post office.  Congressman Waltz is a Green Beret with 23 years of military service, and only one of two Congressman that still qualify as paratroopers in the U.S. Army.  For the 75th anniversary of the D-Day invasion Congressman Waltz flew in the original 81-year-old lead aircraft used by the hundred and first airborne, and made a commemorative jump.  Congressman Waltz was accompanied by his District Director Ernie Audino [Brigadier General, U.S. Army retired], and the Congressman's driver Justin Krause.  They were greeted by the N ALC team Brothers Matty Rose, Steve Parris, James Thigpenn, Frank Marinacci, and myself Dennis Bonilla. At this time I would like to take the opportunity to thank Postmaster Tim Dalton, and Supervisor Matthew Pixley for rolling out the red carpet and assisting us to the max.
Congressman Waltz was wearing a postal uniform shirt provided by president Steve Parris. You see the Congressman didn't just come by to observe he came back to participate in the work that we actually do. After going around and meeting a few the carriers that work at their cases Brother Frank Marinacci called all the carriers to gather around and turned them over to Brother Matty Rose. Brother Rose introduced the Congressman who proceeded to explain the position he had taken with regard to the Postal Service, and thank us all for what we do and what our company is done since 1775.  Also mentioning the undercover boss position which he has taken with a multitude of different businesses within his jurisdiction. By the way Frank was in such control, and did such an outstanding job that Ernie asked Matty if Frank was the boss [Ha ha].  The floor was then turned over to myself, I mentioned that the Congressman cosponsor House resolution 2382 and all the carriers broke out in applause.
Well after a few more pictures were taken it was time to go to work.  Sister Kelly Rose was chosen to have the Congressman ride along with her.  She did an impressive job of educating him on the processes, which all carriers do daily in order to go out on their routes and deliver the mail.  They loaded up Kelly's truck and went off to deliver the mail.  Upon his return, Congressman Waltz, took the time again to thank us for what we do having a greater understanding and appreciation for our service.
Every letter carrier serves a portion of the community in the form of their routes. These routes are the interlocking pieces of a puzzle that when seen together are the United States of America. We proudly deliver 163 million businesses and homes daily, six days a week and packages on Sunday. Not only do we deliver, but we look after our communities and the Congressman has a better understanding of this  now.  He presented me with a congressional coin which reads" Presented For Outstanding Servant Leadership",which I have accepted on behalf of  our entire NALC team.  We look forward working with him on other issues involving the United States Postal Service.
In union
Dennis A. Bonilla
_____________________________________________________
Click  here   for happenings around the state
_____________________________________________________
Special Thanks to Joanne Wright….. from a member…
"I would like to thank Joanne Wright for assisting me on my OWCP nightmare i am having. The little time I spoke to her on the phone has given me an open window to pursue thank you. God Bless "